Just spoken at vloggercon on the net neutrality panel. It was organised and chaired by the guys from blip.tv - Charles Hope and Mike Hudack, who was recently on PBS NOW programme debating the issue. The panel discussion was heated at times and only reinforced my opinion that this is one of the most important issues affecting the future of the internet these days. The points below reflect my position:
The telecoms and cablecos are heavily regulated and their cries for free market are false. The industry is already warped and the argument against net neutrality based on the desire to keep government out of 'markets' is misplaced.
The distinction between consumer and user is gone. It is in fact the 'content' produced by many individual vloggers that put the social media cat among the old media pigeons. The media industry has smelled the wealth of content and feels the urge to control it.
A network that is heavily regulated and not very innovative is being used as a model of control and regulation for a network that is amazingly open, innovative in a historically unprecedented manner. So the government is imposing regulation from a closed and cumbersome industry to an agile and dynamic space.
Nothwithstanding all of the above, net neutrality legislation is not the answer – it is more like 'casting out a devil with the devil'. There is no fundamental understanding of the internet as a space, marketplace, world or a frontier (for more on this see Doc Searls' article on Saving the Net). The debate should not be about the internet as a sum of pipelines and wires and content and packets delivered across an infrastructure. It should be in terms of protecting the space in which the individual has been empowered and the emergent benefits of interactions among those individuals that are having an increasingly sociall impact.
There was more but this is what I can think of whilst sitting in the middle of vloggercon still in full flow.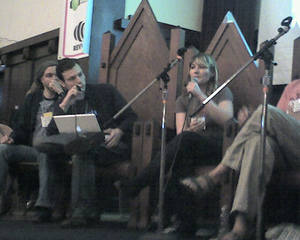 Update: In the heat of the moment, I forgot to mention my 'solution' – deregulate telecoms and cablecos so we have something resembling a real competition at the pipelines and wires level. Then the pipeline takers will not have a case to control content and what goes through. Susan Crawford sums it up well:
Think of the pipes and wires that you use to go online as a sidewalk. The question is whether the sidewalk should get a cut of the value of the conversations that you have as you walk along. The traditional telephone model has been that the telephone company doesn't get paid more if you have a particularly meaningful call — they're just providing a neutral pipe.